Multi-city
Round trip
One way
Smart Shopper Card Number
Flights from Johannesburg to George
Johannesburg to George flights are predominantly filled with tourists, both local and domestic. Just outside of the town are some of South Africa's best golf courses. Oubaai, Fancourt and the Kingswood Golf estate are all situated within 20km from George Airport. Travellers on golf tours or Garden Route tours usually use George as their finishing or starting point. That is why flights from Johannesburg to George are so popular. There are a couple of airline operating flights on this route. Our booking engine compares prices from FlySafair, SA Express, Kulula and Mango to give you the cheapest available flight on your specific date.
Top 5 things to do in George
Visit the Outeniqua Transport Museum
Play a round of golf at Oubaai/Fancourt
Go beer tasting at the Robertson Brewing company
Do some wine tasiting at Herold Wine estate
Visit the Outeniqua farmers market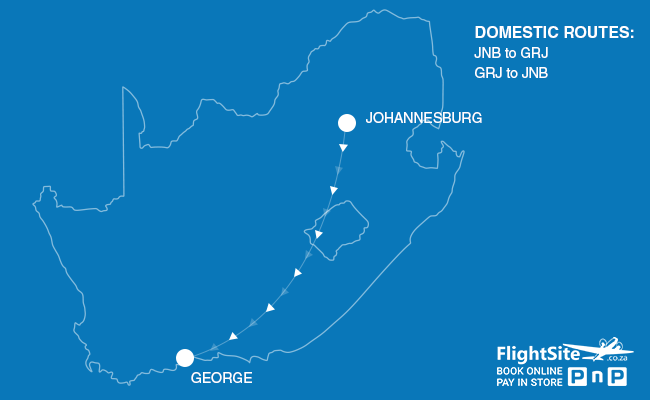 OR Tambo International Airport
Africa's largest and busiest airport is OR Tambo International Airport(JNB). The airport is situated 22km from Johannesburg's CBD and 23km from Sandton, the city's two biggest business districts. The airport is South Africa's primary airport, servicing around 18 million passengers a year. The airport operates non-stop flights to every continent in the world except Antarctica. South Africa's national flag carrier,South African Airways (SAA), has their hub at OR Tambo International.
IATA Code:
JNB
Timezone:
GMT +2
Tel:
011 921 6262
Visit Airport Website
Airport Transfer Information:
OR Tambo International Airport is lucky enough to have a high speed train that runs straight into the airport. The Gautrain seamlessly connects travellers from around the greater Johannesburg area to the airport in a ultra modern, high speed train. Multiple taxi services operate in and out of the airport. Travellers are advised to please check that the taxi is licences and registered before using the service. There are also companies who provide transfers from the airport to your preferred destination. These transfers will have to be booked head of your arrival.
George Airport
The George Airport can be found just 7km from the city centre, and is, as such, widely accessible. Built in 1977, it serves around 600 000 passengers annually, and the increasing popularity of the region is expected to boost traffic even further. Steady growth and top-notch quality service has enabled it to win the South African Airport of the Year award six times.
IATA Code:
GRJ
Timezone:
GMT +2
Tel:
044 876 9310
Visit Airport Website
Airport Transfer Information:
Europcar George Airport car rental, as the name suggests, is conveniently located at the George Airport. Offering low prices, quality service and new vehicles, secure your car rental in an easy 3-step booking process. For Airport Transfers contact Eden D. Taxi co. offering comfortable, air-conditioned transport, getting yourself to and from the airport will be easy.
Airlines that fly OR Tambo International Airport (JNB) to George Airport (GRJ)