Multi-city
Round trip
One way
Smart Shopper Card Number
Flights from Johannesburg to Dubai
South Africans love Dubai! The city has become one of the most popular business and leisure destinations for South Africans. Emirates Airlines offers the only direct flights from Johannesburg to Dubai. Emirates Airlines operates four daily flights between OR Tambo International in Johanneburg and Dubai. Ethiopian Airways, Kenya Airways, Turkish Airlines and South African Airways offer connecting flights to Dubai via Addis Ababa, Nairobi and Istanbul.
Top 5 things to do in Dubai
Go shopping at the Dubai Mall
See the world's tallest building, the Burj Khalifa
Visit the Wild Wadi Waterpark
Go swimming at Jumeirah Beach
Visit the Bastakiya Quarter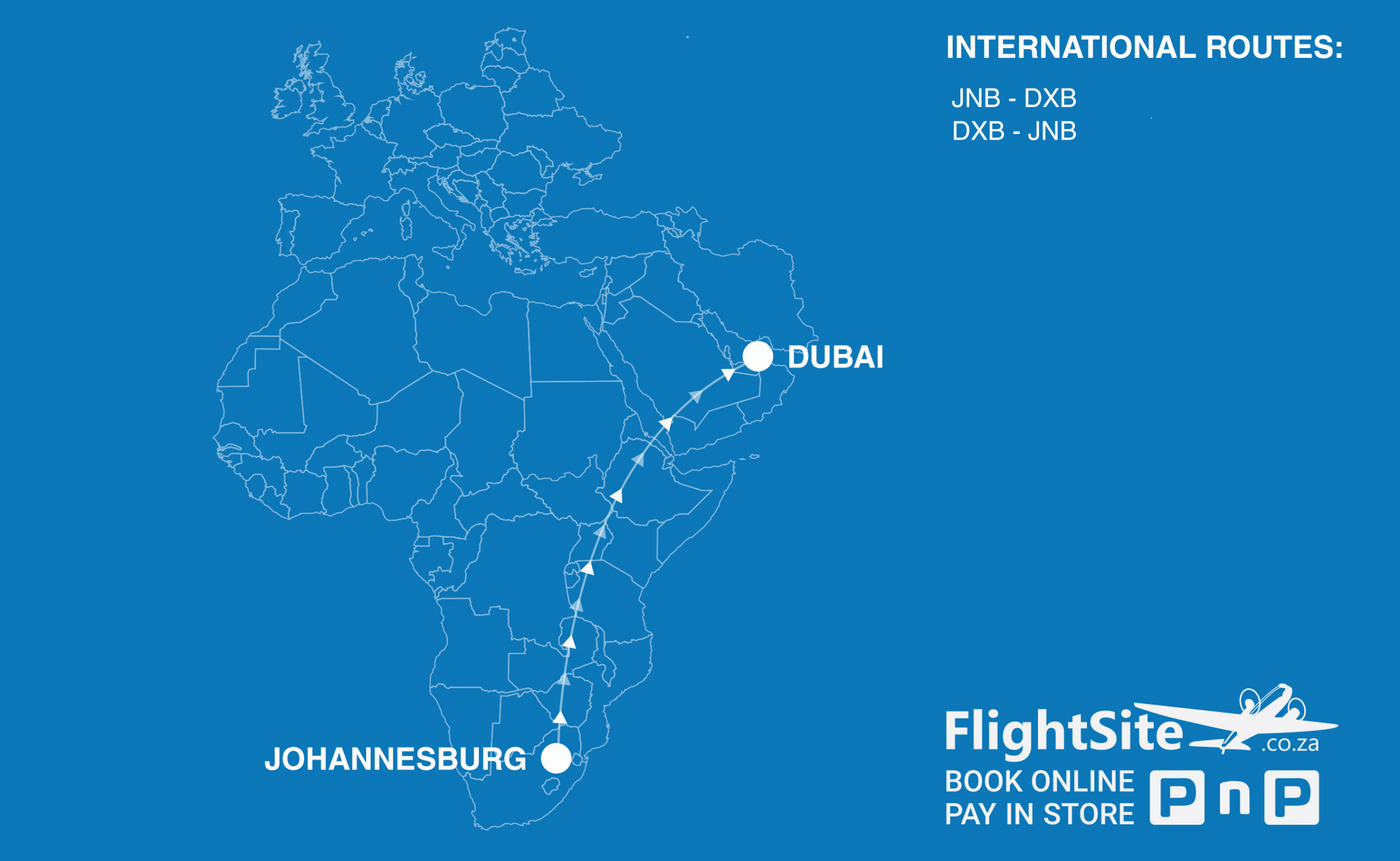 Johannesburg
Africa's largest and busiest airport, OR Tambo International Airport (JNB), services over 18 million passengers each year . OR Tambo International is located 22km outside of Johannesburg's CBD, & 23km from Sandton. The airport services hundreds of international and domestic flights daily. The airport is used by many European carriers as their African hub.
IATA Code:
JNB
Timezone:
GMT +2
Tel:
011 921 6262
Visit Airport Website
Airport Transfer Information:
OR Tambo International Airport is the only airport in South Africa to have a high speed train that runs to and from the airport. The Gautrain connects passengers from the greater Johannesburg and Pretoria area to the airport with high speed, ultra modern trains. The airport also has taxi services and private shuttle services operating to and from the airport. Travellers are advised to check that the taxi or shuttle service has the relevant taxi licence to operate at the airport.
Dubai
Dubai International Airport (DXB) is Dubai's primary international airport. The airport is the world's busiest airport by international passenger traffic volumes, and the third-busiest airport on erth by total passenger traffic. Dubai International Airport services 88 million passengers on 409,493 flights each year. The airport is situated 4.6km outside of Dubai om 2,9 hectares of land.
IATA Code:
DXB
Timezone:
GMT +4
Tel:
+971 4 224 5555
Visit Airport Website
Airport Transfer Information:
Dubai International Airport is 5km outside of the city center. The fastest way to get to the city is by metro. There are also buses and taxi services available at the airport. Travellers will need to purchase a NOL card if they want to use public transport in Dubai as cash payment for metro, bus, and water bus services is not accepted.
Airlines that fly Johannesburg (JNB) to Dubai (DXB)