Multi-city
Round trip
One way
Smart Shopper Card Number
Flights from Cape Town to Bloemfontein
Mango airlines and South African Express are the two airlines offering scheduled passenger flights from Cape Town to Bloemfontein. Our booking engine allows you to search for, compare prices and book your flights on discounted rates and special deals on the Cape Town to Bloemfontein route.
Whether visiting Bloemfontein for business or pleasure, this amazing area offers much in the way of natural attractions. Further more the rich history of the area can be experienced in the the numerous museums in the city.
There are many art galleries to astound you with their local talent, outdoor activities such as hiking, horseback riding, mountain biking and so on for those adventurous spirits, game drives to view the local wildlife and helicopter rides to view the beautiful scenery.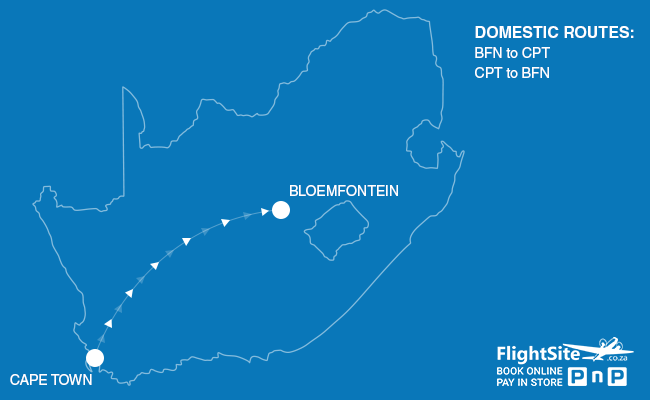 Cape Town International
Cape Town International Airport (CPT) is South Africa's second busiest airport. The airport is situated 15 kilometres from Cape Town's CBD. Cape Town International Airport is the only airport in Cape Town that offers scheduled passenger services. The airport has both domestic and international terminals. The airport is Africa's most award winning airport, having won the title of Africa's leading airport on numerous occasions. The airport services approximately 8million passengers a year.
IATA Code:
CPT
Timezone:
GMT +2
Tel:
021 937 1275
Visit Airport Website
Airport Transfer Information:
The airport does not have a train station. The only public transport that is available from the city to the airport is a bus service. MyCiTi buses depart from Cape Town's bus terminal for the airport every 20 minutes. The bus stop is situated just outside of the terminal building to the west of the airport. There are various companies like Cape Town Airport Shuttle and Centurion Tours, who offer transfer services from Cape Town to the airport.
Bloemfontein Airport
Bloemfontein airport, officially named Bram Fischer airport, is one of South Africa's smaller airports that receives only domestic flights. You will travel to and from Bloemfontein from Cape Town on either SA Express or Mango airlines.
IATA Code:
BFN
Timezone:
GMT +2
Tel:
051 407 2200
Visit Airport Website
Airport Transfer Information:
There are various companies in Bloemfontein that offer shuttle services to and from the Bram Fischer Airport. Ez Shuttles, Phalima Shuttle Services and Winona Transport can be contacted directly for rates. There is unfortunately no public transport services operating to and from the airport.
Airlines that fly Cape Town International (CPT) to Bloemfontein Airport (BFN)