Multi-city
Round trip
One way
Smart Shopper Card Number
Flights from Cape Town to Port Elizabeth
It's either a 12 hour drive from Cape Town to Port Elizabeth, or you can book a cheap flights from Cape Town to Port Elizabeth with FlightSite and save both time and money. Our booking engine compares flight prices from British Airways, FlySafair and SA Express to give you the cheapest available flight. FlySafair is the only low cost carrier operating flights on this route after Mango pulled the plug on their flights in 2015.
Top 5 things to do in Port Elizabeth
See the elephants of Addo Elephant Park
Climb up the Maitland Sand dunes
Go for a game drive in the Kragga Kamma Game Reserve
Visit the South African Airforce museum
Try your luck at the Boardwalk Hotel and Casino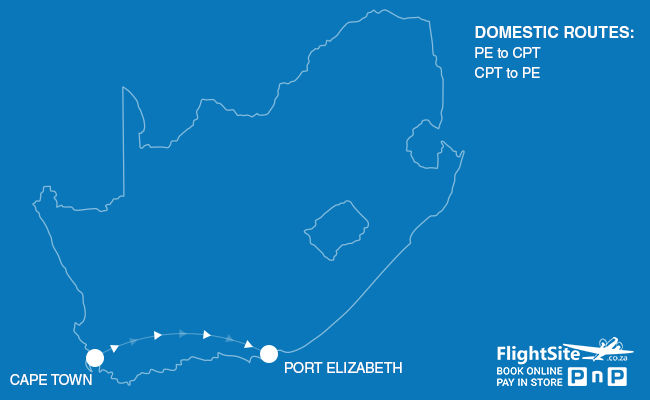 Cape Town International Airport
Cape Town International Airport (CPT) is South Africa's second busiest airport. The airport is situated 15 kilometres from Cape Town's CBD. Cape Town International Airport is the only airport in Cape Town that offers scheduled passenger services. The airport has both domestic and international terminals. The airport is Africa's most award winning airport, having won the title of Africa's leading airport on numerous occasions. The airport services approximately 8million passengers a year.
IATA Code:
CPT
Timezone:
GMT +2
Tel:
+27 (0)86 727 7888
Visit Airport Website
Airport Transfer Information:
The airport does not have a train station. The only public transport that is available from the city to the airport is a bus service. MyCiTy buses depart from Cape Town's bus terminal for the airport every 20 minutes. The bus stop is situated just outside of the terminal building to the west of the airport. There are various companies like Cape Town Airport Shuttle and Centurion Tours, who offer transfer services from Cape Town to the airport.
Port Elizabeth International Airport
Flying to Port Elizabeth means that you will be landing at Port Elizabeth Airport. Port Elizabeth Airport is located just a few kilometres out of the city. There are daily flights from Port Elizabeth. The main flight routes include flights to Johannesburg, flights to Cape Town and flights to Durban. Getting to and from the airport is also easy with available car hire and taxi transfers to and from your hotel.
IATA Code:
PLZ
Timezone:
GMT +2
Tel:
041 507 7319
Visit Airport Website
Airport Transfer Information:
Port Elizabeth Airport is known as 'ten minute airport', as it is situated within five minutes drive from Port Elizabeth's central business district and no more than 10 minutes from almost any important business or tourism district in Port Elizabeth. There is no public transport available at the airport. Passengers will either have to hire a car, use a taxi or book a transfer to their preferred destination.
Airlines that fly Cape Town International Airport (CPT) to Port Elizabeth International Airport (PLZ)