Multi-city
Round trip
One way
Smart Shopper Card Number
Flights from Johannesburg to East London
For many years the Johannesburg – East London route was only serviced by South African Airways. The airline had a monopoly on the route until Kulula and later FlySafair started flights from Johannesburg to East London. Since FlySafair and Kulula started their scheduled passenger services on the Johannesburg – East London route airfares have gone down by almost 20%. Customers are loving it and the demand for flights have been on the rise as airfares have stated low. Use the booking engine above to search for the cheapest flights to East London.
Top 5 things to do in East London
Explore Nahoon Beach
Visit the East London Aquarium
Go camping at the Mpongo Park Private Game Reserve
Shop up a storm at the Hemingways Mall
Discover the history of East London at the East London museum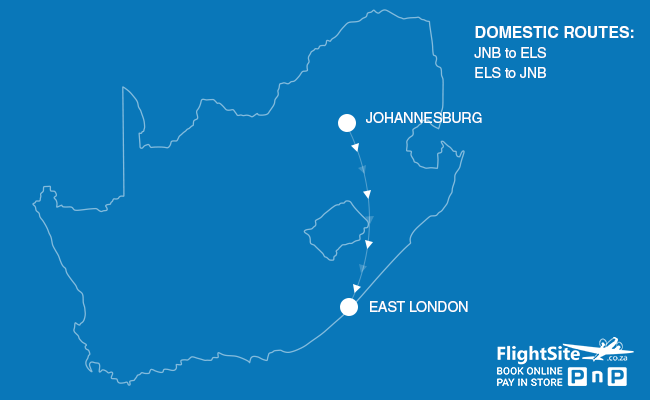 OR Tambo International, Johannesburg
Africa's largest and busiest airport is OR Tambo International Airport(JNB). The airport is situated 22km from Johannesburg's CBD and 23km from Sandton, the city's two biggest business districts. The airport is South Africa's primary airport, servicing around 18 million passengers a year. The airport operates non-stop flights to every continent in the world except Antarctica. South Africa's national flag carrier,South African Airways (SAA), has their hub at OR Tambo International.
IATA Code:
JNB
Timezone:
GMT +2
Tel:
011 921 6262
Visit Airport Website
Airport Transfer Information:
OR Tambo International Airport is lucky enough to have a high speed train that runs straight into the airport. The Gautrain seamlessly connects travellers from around the greater Johannesburg area to the airport in a ultra modern, high speed train. Multiple taxi services operate in and out of the airport. Travellers are advised to please check that the taxi is licences and registered before using the service. There are also companies who provide transfers from the airport to your preferred destination. These transfers will have to be booked head of your arrival.
East London Airport
The city has a small, but busy national airport that hosts between 20 and 30 flights daily, which welcome over 500 000 people to the city annually. The airport is also an important link in the cargo chain, playing a vital role in the escalating economy of the Eastern Cape.
IATA Code:
ELS
Timezone:
GMT +2
Tel:
043 706 0306
Visit Airport Website
Airport Transfer Information:
Europcar East London car rental, as the name suggests, is conveniently located at the East London Airport. Offering low prices, quality service and new vehicles, secure your car rental in an easy 3-step booking process. For Airport Transfers contact Eugene's Executive Airport Shuttle, which operate safe, comfortable metered taxis, to ensure you can effectively get to and from the East London Airport. Contact: +27 (0)76 384 1623.
Airlines that fly OR Tambo International, Johannesburg (JNB) to East London Airport (ELS)