Multi-city
Round trip
One way
Smart Shopper Card Number
Flights from Johannesburg to Durban
The flight route between Johannesburg and Durban is the second busiest route in South Africa & Africa, with a number of airlines competing for market share from flights from Johannesburg to Durban. The Johannesburg to Durban flight times vary extensively throughout each day, the first flight of the morning kicking off at 06h20am, and the last flight leaving at 19h30pm. King Shaka International Airport (DUR) receives regular scheduled flights from Johannesburg from a range airlines including South African Airways, Mango, Kulula Airlines, FlySafair, and British Airways.
Top 5 things to do in Durban
Visit uShaka Marine World
Swing across the Moses Mabhida stadium
Visit the Durban Botanical Gardens
Try your luck at the Suncoast Casino
Visit the Valley of a thousand Hills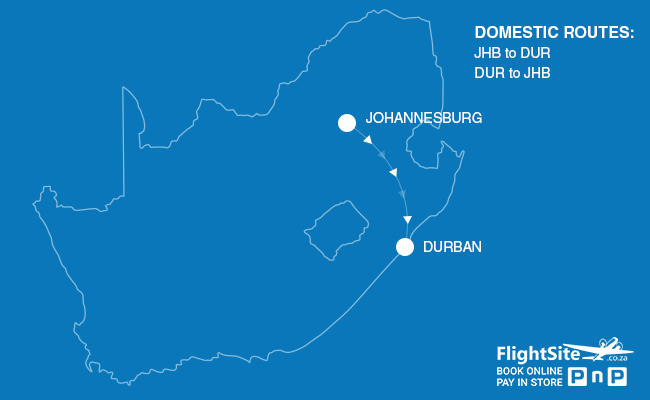 OR Tambo International Airport, Johannesburg
Africa's largest and busiest airport is OR Tambo International Airport(JNB). The airport is situated 22km from Johannesburg's CBD and 23km from Sandton, the city's two biggest business districts. The airport is South Africa's primary airport, servicing around 18 million passengers a year. The airport operates non-stop flights to every continent in the world except Antarctica. South Africa's national flag carrier,South African Airways (SAA), has their hub at OR Tambo International.
IATA Code:
JNB
Timezone:
GMT +2
Tel:
011 921 6262
Visit Airport Website
Airport Transfer Information:
OR Tambo International Airport is lucky enough to have a high speed train that runs straight into the airport. The Gautrain seamlessly connects travellers from around the greater Johannesburg area to the airport in a ultra modern, high speed train. Multiple taxi services operate in and out of the airport. Travellers are advised to please check that the taxi is licences and registered before using the service. There are also companies who provide transfers from the airport to your preferred destination. These transfers will have to be booked head of your arrival.
King Shaka International Airport, Durban
The international airport in Durban is named King Shaka International Airport (DUR) and is situated 35km north of Durban's city centre. King Shaka International Airport, also referred to as La Mercy Airport, was opened on May 1st 2010, 1 month before the start of the FIFA Soccer World Cup. The airport itself has an annual passenger capacity of 7.5 million and comprises a space of 102 square kilometers.  It is also said to be the 9th busiest airport in Africa. The King Shaka International Airport is a key component to the city of Durban's long-term goals.  With the city targeting higher tourist traffic, with uShaka Marine world and they're warm water beaches, the airport is highly important in achieving the goal of over 5 million visitors per year.
IATA Code:
DUR
Timezone:
GMT +2
Tel:
032 436 6000
Visit Airport Website
Airport Transfer Information:
King Shaka International Airport does have public transport in the form of a bus service that transports travellers to the city center. There are also numerous taxi companies and shuttle services that travellers can make use of. Please make sure that the taxi is registered and licences before making use of the service. For more information on transport services around the airport click here.
Airlines that fly OR Tambo International Airport, Johannesburg (JNB) to King Shaka International Airport, Durban (DUR)